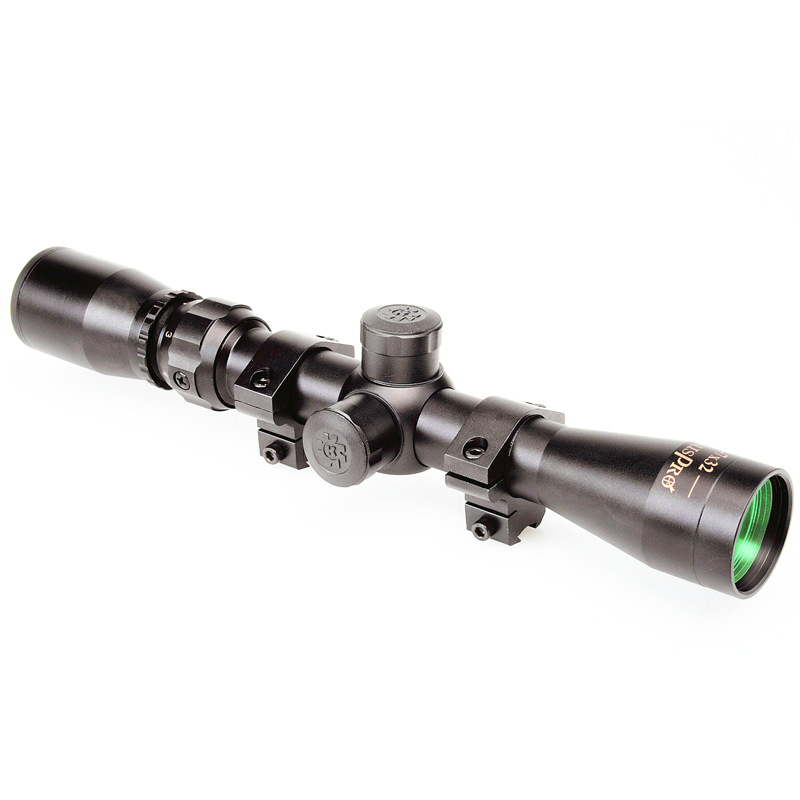  
KONUSPRO OPTIC 2-7X32 - 7260
KONUSPRO OPTIC 2-7X32 #7260
SPECS
WATERPROOF, FOGPROOF, SHOCKPROOF
DRY NITROGEN FILLED
APPROVED FOR AIRGUNS WITH A 7.5 JOULE ENERGY OR LESS
HEAVY CALIBER RECOIL PROOF RETICLE
MULTI-COATED OPTICS
FINGER ADJUSTABLE WINDAGE AND ELEVATION ADJUSTMENTS
INCLUDES RING MOUNTS SUITABLE FOR 3/8″ GROOVED RECIEVERS
INCLUDES LENS CAPS AND LENS CLEANING CLOTH
DESCRIPTION
THE FAIRLY LOW MAGNIFICATION RANGE ON THE KONUSPRO 2X-7X32 MAKES IT IDEAL FOR USE WITH .22 CALIBER RIFLES.
This riflescope is a great choice for short to medium range shooting, as well as for fast moving targets.It features an unbreakable glass engraved, 30-30 reticle. The multi-coated optics provide enhanced light transmission, and finger adjustable turrets are easily dialed in, even with gloved hands. Parallax is corrected to 75 yards. The 2X-7X32 comes with mounting rings suitable for small bore bases (ie: .22's, etc.) As with all Konus scopes, they are nitrogen purged for true waterproof & fogproof integrity, as well as being shockproof.
TECHNICAL DATA
POWER/OBJECTIVE LENS: 2X-7X32MM
TUBE DIAMETER: 1″
RETICLE: 30/30 ENGRAVED RETICLE
FINISH: MATTE
EXIT PUPIL: 8MM AT 2X • 4MM AT 7X
EYE RELIEF: 3″/76MM
F.O.V. @ 100 YARDS: 43FT/14.3M AT 2X • 12.6FT/4.2M AT 7X
LENGTH: 12″ – 305MM
WEIGHT: 14.1OZ – 399GR
CLICK VALUE @ 100 YARDS: 1/2 M.O.A. (14MM)
MAX INTERNAL ADJUSTMENT: 69″ – 1.6M
PARALLAX SETTING: 75 YARDS
MOUNTING LENGTH: 4.9″/125MM
No customer reviews for the moment.