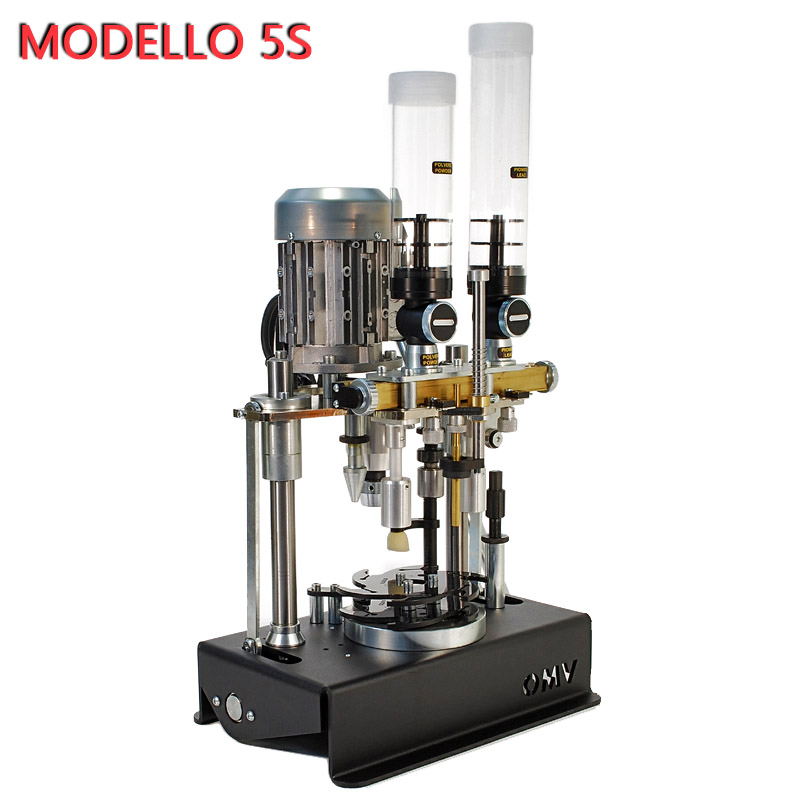  
SIMPLY 5S ROTARY PRESS
SIMPLY 5S rotary press
Semi-automatic rotary press with 5 stations, for two-step closing (engraving and hemming) of the shot cartridges
2-step closure, engraving and hemming
The machine is supplied with accessories for a caliber of your choice
Available in caliber 12-16-20-24-28-32-410
The Simply 5S rotary press is suitable for loading hunting and target ammunition.
The adjustment of the machine is very simple, in fact with a few simple operations you can set up the press and start working.
The dosers are specifically designed to guarantee precise weighing, the micrometric bar has a vibrating mechanism with 4 downward and 4 upward settling stops.
Vibration occurs when the powder falls into the dosing chamber.
The dosage takes place at that moment.
The machine has been tested with numerous types of powders, even with those that are more difficult to dose because they are not very flowing, such as Tecna, S4 / n, Mb etc. etc.
The regulation of dust and lead takes place through comfortable micrometric knobs, to arrive at the desired dose quickly and precisely.
The lead tube is made of plastic, while the powder tube is made of tempered glass, so that it does not transmit electrostatic charges to the dust.
The engraver is adjustable in height and with a quick rotating coupling, to resume the old starry folds, in case of loading used and recalibrated cartridge cases.
The hemming head for closing the cartridge turns at 900 rpm on a solid aluminum support, with 2 ball bearings inside.
The central shaft has the transmission through a toothed belt connected to a 220 Volt motor. The machine can be used semi-automatically, or excluding the powder and lead dispensers, also in manual mode. For example, we can release the rotating disk from its mechanism and go to position the cartridge case directly under the star and hemming station.
No customer reviews for the moment.
Customers who bought this product also bought: